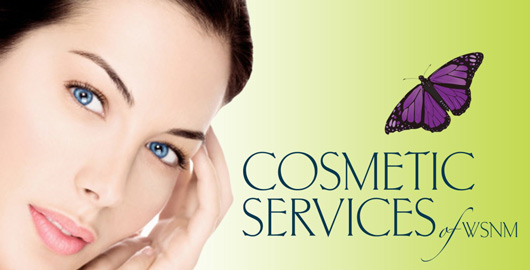 Women's Specialists of New Mexico provides non-surgical cosmetic procedures as an enhancement to the comprehensive women's health services we offer. These services are available in a relaxing, comforting, state-of-the-art atmosphere. These services are located at our all new Oasis Med Spa, conveniently located next door to our Jefferson Lane office.
BOTOX®

Discover the proven results that 11 million women and men have experienced with Botox® Cosmetic. If you have moderate to severe glabellar lines between your brows then Botox® can help soften your look. Botox® can also help with the temporary reduction of crow's feet near the eyes. Ask our Cosmetic specialist more about Botox® Cosmetics.
LATISSE®

Latisse® is a prescription treatment for inadequate or not enough eye lashes. The treatment will produce longer, fuller, and darker eyelashes. Great eyelashes don't happen overnight. This treatment is gradual. The solution is applied to the eyelash line along the lid of the eye each night and after 16 weeks, you will have longer, darker and fuller eyelashes.
JUVÉDERM®

Over the years, exposure to the sun, natural bone and fat loss and other elements, result in unwelcome lines and wrinkles. We can now correct these wrinkles and facial folds, reversing the signs of aging with JUVÉDERM® a hyaluronic acid-based product that not only smooth wrinkles but also enhances lips and cheek bone instantly. Juvedérm® has come to be known as the "instant wrinkle remover" because the placement is a quick, in-office procedure with immediate results restoring that natural youthful look.
COOLSCULPTING

Eliminate stubborn fat that can't be shed with diet and exercise alone with CoolSculpting, a technology created by Harvard Scientists to remove belly fat, spare tires and love handles. This medical breakthrough is allowing Men and Women to get the results of Liposuction without the surgery. Its FDA cleared, completely safe, with no downtime.
Find out if CoolSculpting is right for you!  Request a free consultation or call 505.314.1444
LASER SERVICES

WSNM proudly offers a large array of Laser Cosmetic services using state of the art technology that are sure to give you the results you are looking for! The line of laser services we provide from our conveniently located office include laser hair removal, acne/scar reduction, skin resurfacing, sun spot reduction, spider vein reduction, melasma reduction and even tattoo removal. Contact us today to find out how we can keep your skin looking young and healthy!
Cosmetic Services provided by:
MARY CLARE GALARZA, RN
Jefferson Lane Office
Mary Clare was born and raised in St. Louis, MO and has had the opportunity to live and work in Pennsylvania, Indiana, Ohio, Oklahoma and Virginia before moving to New Mexico. She is very happy to have stopped living the vagabond lifestyle and now calls New Mexico her home. When not at work, she enjoys spending time with her husband, children and grandchildren. Her interests include running, cycling, hiking, cooking, skiing, traveling, and watching movies.
Certification: National Council of State Board of Nursing, 1985
Certified in Advanced Injecting, 2011 – current
Special Interests: The transformation of a patient who receives treatment is not just physical. It is a sense of self worth and confidence that occurs when the patient looks in the mirror. No matter your age, you should define aging and not let aging define you!