Women's Specialists of New Mexico has delivered
babies in Albuquerque since January 1st, 1974.
TEENS
Our physicians and nurse practitioners are proud to offer guidance and care to the teenagers of Albuquerque, NM.
Teenage Care
As a teenager, your health is very important as you and your body experience many changes. We help guide teens through important health decisions, fitness, nutrition and much more.
MOTHERHOOD
We believe that every woman is an individual with unique needs for her care throughout her pregnancy, labor, and delivery.
OB CARE
Pregnancy is an exciting and important time in your life. We are here for you every step of the way from conception and prenatal care to morning sickness and getting prepared for labor.
GYN CARE
Gynecology care is important for all women, starting with teens and into their 90's. We provide ongoing gynecology care and women's healthcare throughout your life..
FOCUSED ON YOU
WSNM offers comprehensive, board certified gynecologic care, including annual preventative exams, reproductive/contraceptive management, and treatment for menopause or other gynecologic conditions.
COSMETIC SERVICES
WSNM provides non-surgical cosmetic procedures as an enhancement to the comprehensive women's health services we offer.
A NEW YOU
BOTOX®, LATISSE®, JUVÉDERM® and Laser Services highlight our offerings at Women's Specialists of New Mexico. These services are available in a relaxing, comforting, state-of-the-art atmosphere at our Jefferson Lane office.
Now accepting new patients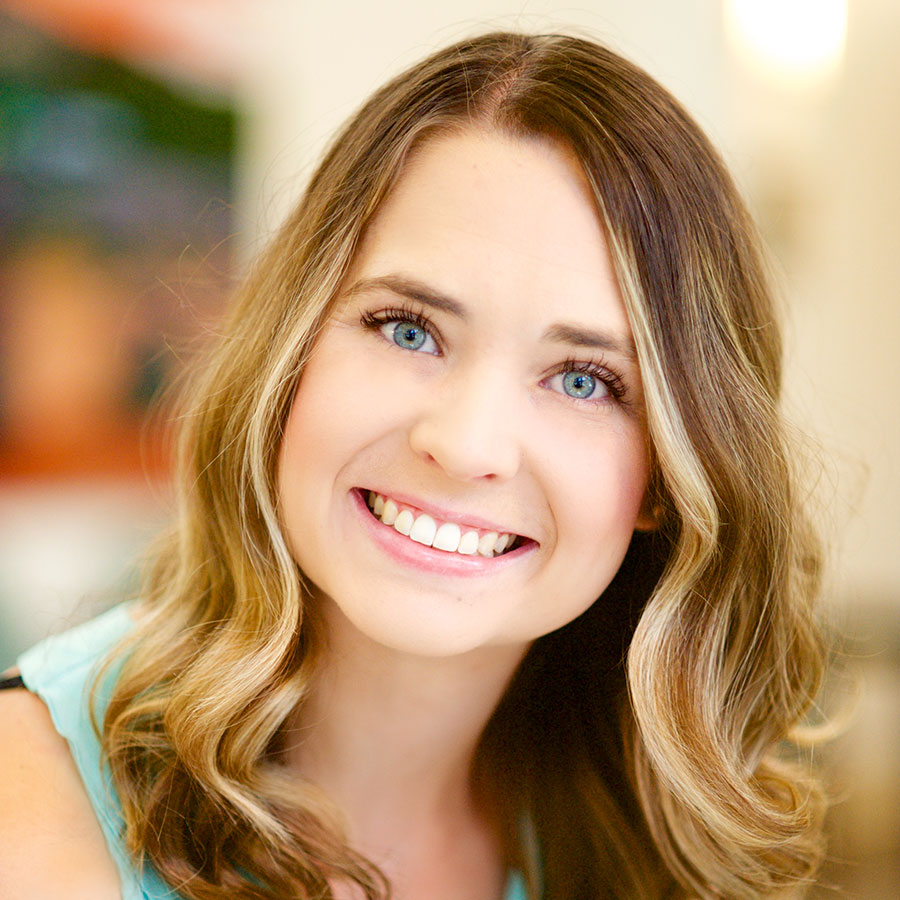 Sara was born and raised in New Mexico. She has a nursing background in both medical surgical nursing as well as labor and delivery/maternal specialty care. After completing five years as a bedside nurse, she completed her graduate degree at the University of New Mexico and became a Family Nurse Practitioner with the goal of specializing in women's healthcare. With Sara's background in both primary care and women's health, she is passionate about working alongside
women of all ages and brings a comprehensive view to their healthcare. Sara Evans, FNP is currently accepting new patients at our Jefferson location. 
Honored to Have Top Docs in 2021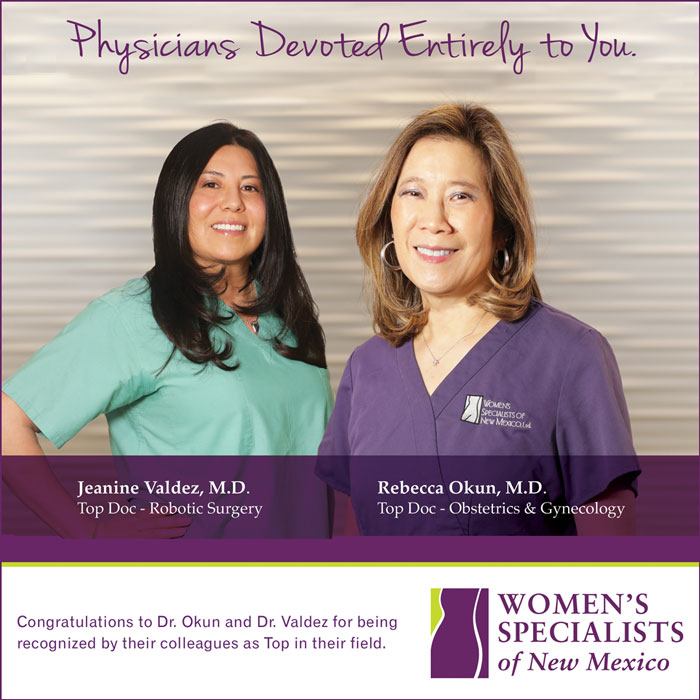 Women's Specialists of New Mexico has partnered with MedPharmics to enroll patients in clinical studies.  MedPharmics is a clinical research consortium with sites in New Orleans, Biloxi, [...]
2021 Top Doc for Obstetrics and Gynecology Dr Okun was raised in Washington D.C. and graduated from Georgetown University School of Medicine. She has been with [...]
2021 Top Doc for Robotic Surgery Dr Jeanine Valdez practices at the WSNM Westside office on Riverside. Her hometown is Isleta Pueblo and she decided to [...]
WSNM sincerely appreciates the opportunity to assist you in your health care needs.
Our Physicians are women's health Specialists who are Board Certified or on track for Board Certification. Our credentials ensure the highest level of care and professional standards of care for women. Our team practices to one standard and that is excellence.
For your convenience, you can access our secure online services by visiting our Patient Portal Online Services for Patients.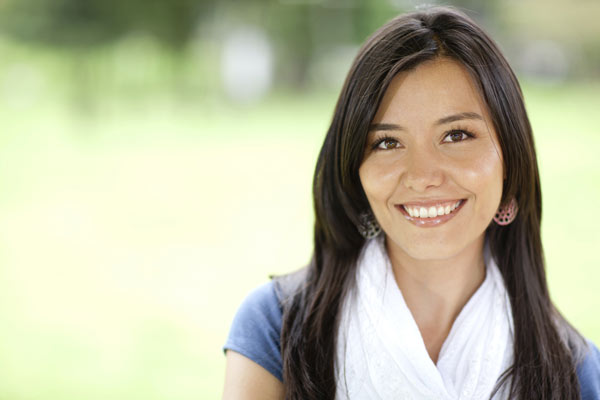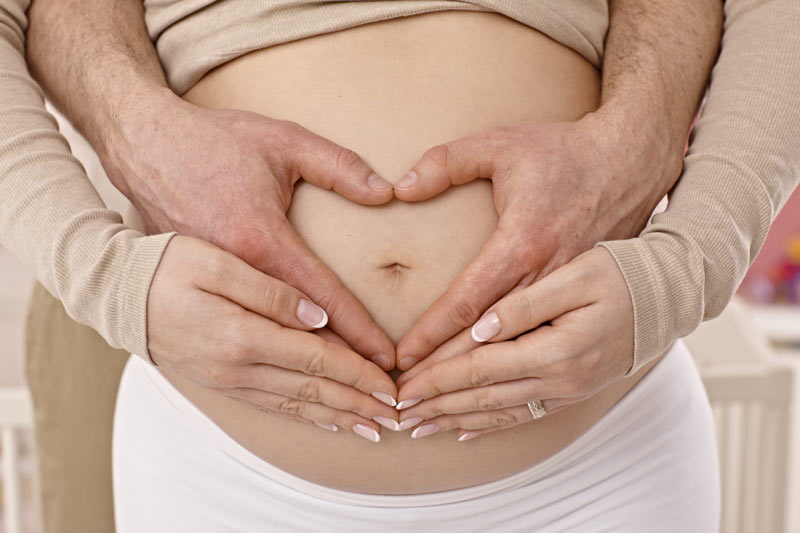 Women's Specialists of NM Reviews
As a patient of Women's Specialists for the past 15 years, I've been very satisfied with the care. I've had the same doctor (Dr. Okun) who knows me and works with me to achieve good healthcare. Having the same doctor for so many years speaks volumes in my book. Her assistant and other staff are always so friendly – it's a great place to go to for women's health.
The wonderful staff at Women's Specialists continue to impress me. They treat my wife with kindness, compassion and always take the time to put things into plain English. I'm confident that they provide the finest care in New Mexico. Thank you for helping bring my beautiful baby girl into this world!
Great practice for my annual checkups. I get to see the providers I like and they are always knowledgeable and helpful and thorough. Wait times are pretty low.
The front desk staff was helpful and friendly! Nancy Miller, CNM was a wonderful provider and was empathetic to the nature of my issues. Very good experience!!!
The medical information published on this website is not intended to serve as a substitution for a thorough evaluation from a qualified healthcare provider. Furthermore, no one should act upon any of the information (including medical conditions or procedures) contained within this website without appropriate medical advice, a thorough examination or any evaluation necessary to provide a health assessment from a qualified physician.