Ask the Midwife – Nitrous Oxide for Labor Analgesia
If you are like most pregnant women, you have been putting some thought into labor and what will happen during that process. Pain management is something that many women consider ahead of time. It is very common to have concerns about it: how much will labor hurt? Will I be able to manage it? What are my options for pain relief if the pain is too much for me? Will the options really help enough? Most women are a little nervous when thinking of these questions. Many women have heard of pain relief options such as the epidural or IV pain medication. There is a new option being offered for pain relief in labor at Lovelace Women's Hospital; one that in fact has been in use for over a hundred years but is becoming more popular currently in the United States. This option is nitrous oxide, a pain reliever in the form of gas that is inhaled by the laboring woman.
Nitrous oxide has been used for many years in Europe for pain relief in labor, and in fact has been used in some U.S. hospitals for as long as 20 years. More recently, the use of nitrous in labor units in the U.S. has become more common, including in NM. You may be familiar with nitrous oxide, or "laughing gas" from the dentist office. The form given for labor is a bit different from the dentist office. It is standardized so that the laboring woman receives a mix of 50% oxygen and 50% nitrous oxide when she holds the mask to her face. Since the woman is in charge of holding the mask, she cannot overdose on the medication. She holds the mask to her face and begins breathing in about 30 seconds prior to the onset of the contraction, and continues to breathe in and out until the contraction is over. She then breathes room air in between contractions. I always advise women that it can take a bit to get into the rhythm of using the mask and inhaling the gas, so give it a little time to work. There are a small minority of women who feel no effect from nitrous oxide, and there are some who will use it and decide it does not control their pain well enough, so they move onto other options such as the epidural.
The use of nitrous oxide in labor is safe for the fetus. No heart rate changes are noted on the fetal monitor and as soon as the mother stops breathing the gas it is out of both her system and that of the baby. Side effects can occur in some women, including nausea and dizziness and less commonly, vomiting. Women who have certain medical conditions are unable to utilize nitrous oxide during labor. These include women with B-12 deficiency, pernicious anemia, Crohn's disease and chronic malnutrition due to alcoholism.
The use of nitrous oxide in labor does not affect the length of labor, neither shortening it nor making it last longer. It is very easy to learn to use, works to relieve pain quickly, and has no negative effects on the fetus. We have had laboring women use nitrous oxide during pushing, by figuring out how to hold the mask with one hand and hold someone's hand or pull up on their leg with their other hand. Nitrous can also be used for pain relief in the case of manual removal of the placenta (if the placenta does not deliver normally and has to be removed by the provider). This has advantages over IV pain medications as then the new mom will not be groggy or sleepy after the procedure. Nitrous can also be used during suturing, in the event of a laceration during delivery.
Should you choose to use nitrous oxide during your delivery you will be asked to sign a consent. That consent includes not sharing the mask with anyone in the room; your privilege to use it will be taken away in that case! We are very excited to be able to offer this option for pain relief to the women in our practice that deliver at Lovelace Women's Hospital. If you have further questions about this option, please ask us during your prenatal visit. We hope you have a wonderful childbirth experience no matter what you decide on for pain relief. And remember, you may have an idea of what you want, but you can certainly change your mind at any time during labor. An open mind and flexibility go a long way during the labor process. Happy birthing!
National Cervical Cancer Awareness Month
I love seeing women for annuals throughout the year, but I get a particular kick out of the women who come for their annuals in January. What a great way to start the year out with a commitment to self-care! Here we are at the end of January already, but you still have lots of time to get your annual done this year.
Did you know that January is Cervical Cancer Awareness month? We all know we should have our annuals and get Pap smears regularly but sometimes there is confusion about why we do Pap smears and what the results tell us. A Pap smear is a highly reliable way to screen for cervical cancer, or cancer of the cervix.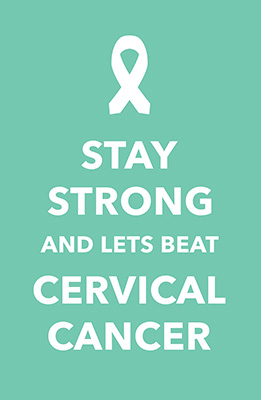 The cervix is the opening to the uterus. It acts as a doorway between your vagina and uterus (and therefore other internal organs as well!). Your cervix has to deal with quite a bit of germs, viruses and bacteria—and sperm!
Human papilloma virus (HPV) is one of the myriad of microorganisms that your cervix faces off against. HPV is transmitted skin-to-skin, so we usually blame penises and fingers for transferring HPV to the cervix, although sex toys can also harbor HPV for many hours.
Certain strains of HPV really settle into cervical cells. Most women's immune systems clear HPV over time but occasionally worrisome types of HPV decide to hang around for years and can ultimately cause cervical cancer for some women.
When we do a Pap smear, we place a speculum so we can see your cervix and use a little brush to sweep some cells off of your cervix. The cells go to the lab where they check to see if the cells look normal or abnormal. In some cases, the lab also checks to see if the HPV strains which are high risk for cervical cancer are present. Abnormal results are a red flag that helps us help you have further testing and monitoring. Sometimes the cervix becomes normal again, but sometimes changes require even more monitoring and treatment. The goal is to prevent cervical cancer.
No one enjoys having Pap smears and it can definitely feel awkward, but it really is a simple test that can prevent cervical cancer.
Women should start having Pap smears at 21 years old and women can usually stop having Pap smears at 65 years old. How frequently you should have Pap smears depends on your personal health history. Our goal at WSNM is to provide you with individualized, evidence-based care so you can be healthy and thrive for decades and decades. Check your calendar and give us a call!
New Location Will Improve Patient Experience
On November 1, WSNM officially moved our home office from 201 Cedar St SE to 1001 Coal Ave SE.  The new location is one block south and the change is being made to increase convenience for patients. The new location on Coal offers more parking spaces, shorter walking distances and easier access to appointments.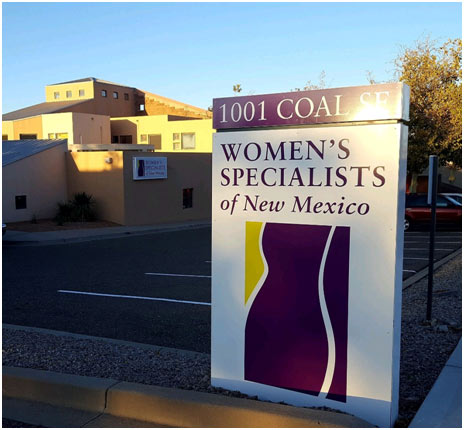 According to WSNM Executive Director Kathy Teston, "This move is about creating more convenience for our patients. The complaint we hear most often from patients and family members who see us at the downtown office is about parking. Our current location at the Presbyterian Hospital campus on Central Avenue is inside a multi-story building on the fifth floor. Patients often walk long distances across crowed outdoor parking lots or navigate a large, hectic parking structure. Our new office is a two-story building with plenty of on-site surface parking. We have been communicating about the move with our patients for a few months now and we are getting very positive feedback."
"Our downtown office tends to be our busiest", said Teston, "we have 12 full-time providers seeing 35,000 patient visits a year. We are investing in the new space at 1001 Coal for our patients' convenience and we're also taking the opportunity to provide patients with a fresh and up-to-date medical office."
At Oasis we can help you cleanse, tone, correct and protect your skin.  We have a full spectrum of skin care facials ranging from our signature Calming Facial to our Pumpkin Retexturizing Facial for both men and women. We also carry leading skin care lines to include Skin Ceuticals, ELTA, BioPelle and more.
For the month of August, we are offering special discounts on facials ranging from 10% – 20%, depending on how much you spend with us.
Spend $50 to $150 and receive 10%off
Spend $151 to $350 and receive 15%off
Spend $351 or more and receive 20% off
Our Esthetician, Nicole Ortega, is incredibly well-trained and personable. Nicole graduated from the New Mexico Aveda Institute in December of 2001 in Esthiology and has a wide range of knowledge in the field.
At Oasis we provide clinically proven cosmetic services and take the time to understand patient goals and health concerns as we recommend treatment plans and products. I think this makes us different from other cosmetic spas and invite you to visit us at the Oasis Med Spa.
Call (505) 344-1444 to schedule your appointment today.
I AM A RUNNER
I AM A CFO
I AM A TRIATHLETE
I AM A WOMAN
Women's Specialists of New Mexico is dedicated to the health of all women, from teens and pregnancy, to gynecology and beyond.
Ask the Midwife – Zika Virus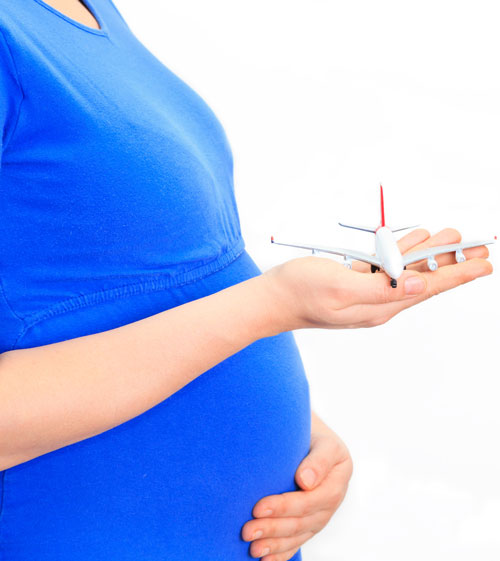 Q: I planned a trip to a beachside resort in Mexico a few months ago and just now found out that I am pregnant.  My mom said it isn't safe for me to go because of Zika virus, but I already paid for the trip. What should I do?
A: Congratulations on your pregnancy!  Our primary goal is for you to have a healthy pregnancy as well as a safe and happy outcome for you and your baby.  Zika virus is a serious concern in pregnancy.   This disease is spread by the bite of 2 types infected mosquitoes, as well as through sexual contact.  The virus can cause severe birth defects of the brain in the developing fetus, as well as miscarriage, stillbirth and a disease of the nervous system called Guillain-Barre syndrome.  Unfortunately at this time, there is no vaccination against Zika.  The CDC recommends that all pregnant women avoid travel to areas of the world where Zika is being transmitted.  If travel is unavoidable, steps must be taken to minimize the risk of being infected with the virus.  If you travel to an area that is known for Zika transmission, your provider will arrange for testing for the virus one or more times during your pregnancy, and will advise you to refrain from sexual intercourse during your pregnancy.
Areas of the world that are known to present a risk of Zika virus transmission include: Mexico; the Caribbean (including but not limited to the Virgin Islands, Puerto Rico, Cuba, Jamaica and the Bahamas); all Central American countries; most South American countries; much of Africa; parts of Asia including India, the Philippines, Vietnam and Burma; and some of the Pacific Islands.  Additionally, the areas of Miami-Dade county and Brownsville, Texas have reported mosquito-borne Zika infections.  The CDC has a current list of all countries affected.
The CDC recommends that people who travel to places where Zika is found take steps to avoid mosquito bites.  This includes staying indoors, using screens on windows and doors, sleeping under mosquito nets, and using insect repellents on the skin.  Recommended repellents include those containing DEET, Picaridin, IR3535, oil of eucalyptus and 2-undecanone.  EPA registered repellents are preferred.
Zika can be passed through vaginal, anal and oral sex. The virus can remain for prolonged periods in semen, which is the reason for the recommendation to avoid sexual intercourse during pregnancy if there has been a risk of exposure. The virus can be found in semen for as long as 6 months.  If intercourse occurs, condoms should be used every time, from beginning to end, and dental dams should be used for oral sex.  It is safest to not have sex for the entire pregnancy.  If only the male partner of the pregnant woman is visiting a Zika affected area, condoms should be used for 6 months or they should abstain from intercourse. If symptoms develop in the male partner, contact a healthcare provider for instructions on testing.
Many people who are infected with Zika will have no symptoms at all, or very mild symptoms that could last a few days to a week.  Zika symptoms can include fever, muscle pain, rash, red eyes, headache or joint pain.   Zika can have symptoms that are similar to other tropical illnesses such as Dengue Fever and Chikungunya so it is important to receive the correct testing.  Your provider will work closely with the NM Public Health Department to plan the timing and type of tests.   There is no medication for Zika but symptoms can be treated with rest, fluids and Tylenol. It is not recommended to take aspirin or ibuprofen.
Finally, I know it is disappointing to have to change plans, but I would recommend that you not take your trip to the beach in Mexico, and perhaps go somewhere  that there is no risk of Zika, such as  a mountainous area of Mexico, at an elevation over 6,500 feet (no mosquitoes up there) or an alternative location, such as France or Italy.  While traveling to the high elevation, precautions against mosquitoes need to be taken if in lower elevations in transit.  Finally, only you and your partner can make the decision on whether to take the risks, but the potential for severe problems in the fetus is a real concern, and one that should be taken very seriously.  For further information on Zika and pregnancy, please reference the CDC Travel PDF.  We hope you have a happy and healthy pregnancy!
– Elizabeth Withnall, CNM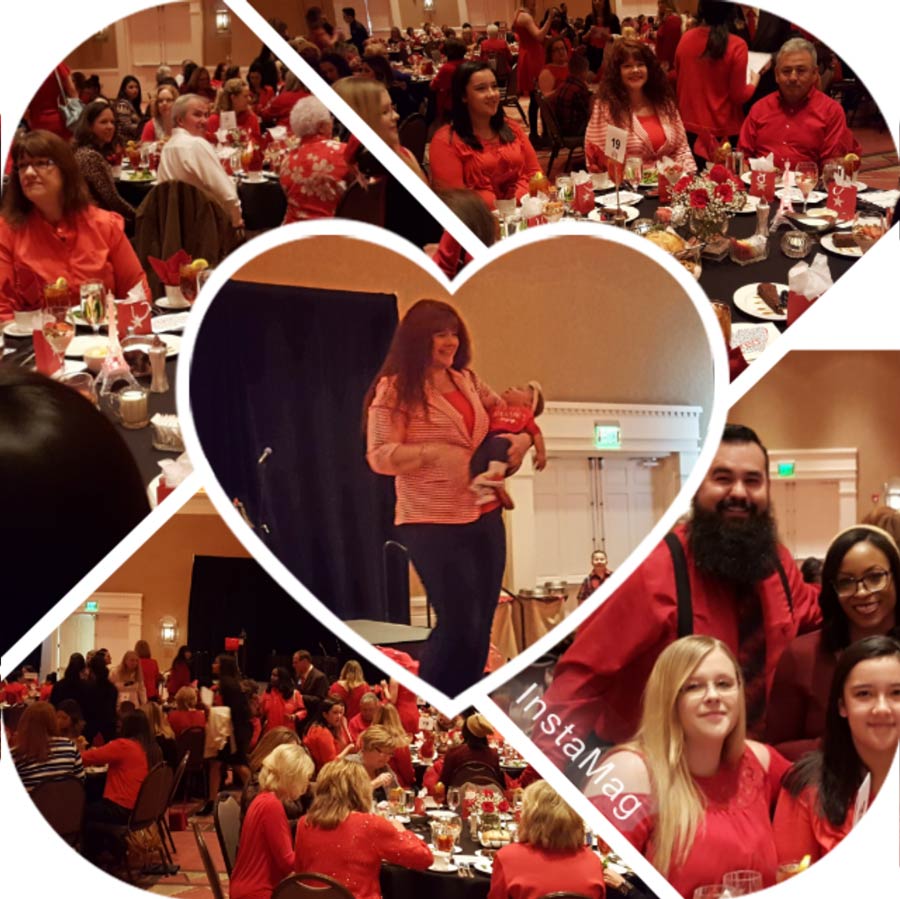 Women's Specialists had the distinction of celebrating one of our employees recently. Tammy was honored at the Go Red for Women luncheon sponsored by the American Heart Association.  Her story is important because many women ignore the symptoms.  See Tammy's story below.
"I had my heart attack on the evening of July 31, 2016 at 47 years old. In hindsight, I started having symptoms 48 hours prior. I left work on a Friday evening with shoulder blade pain. I figured it was a knot and had my husband rub it that night. It continued intermittently through Saturday and was starting to make my fingers tingle. I took Tylenol and Advil and that relieved a little of the discomfort but I had a dull ache that felt like it was in the bone. I woke up on Sunday feeling so much better. I relaxed most of the day and decided early evening I was going to vacuum the pool. That was all it took. I went inside, sat on the couch and had the most excruciating chest pain, down my arm, up my neck into my jaw. I fell to the floor. I knew exactly what it had to be. I realized with my first grandbaby just 6 weeks away and my family witnessing this that I had to go to the Emergency Room. I did not want to be a statistic. The EKG was normal but my labs were not. I went to the cath lab with a 90% blockage of my LAD artery and had a stent placed. I have no family history, no high cholesterol and no high blood pressure.  Very happily 6 weeks later I spent another night in the hospital and witnessed the beautiful birth of my grandbaby Brielle Mae."
Tammy's story is not unique as many women miss the warnings signs.  If you have any of the following symptoms, be proactive and seek help.
Shortness of breath.
Pain in the back, neck, jaw or one or both arms.
Cold sweat, nausea/vomiting or lightheadedness.
Uncomfortable pressure, squeezing, or pain in the center of your chest that lasts more than a few minutes. This pain can go away and then come back.
If you have any of these signs, call 9-1-1 and get to a healthcare facility right away.